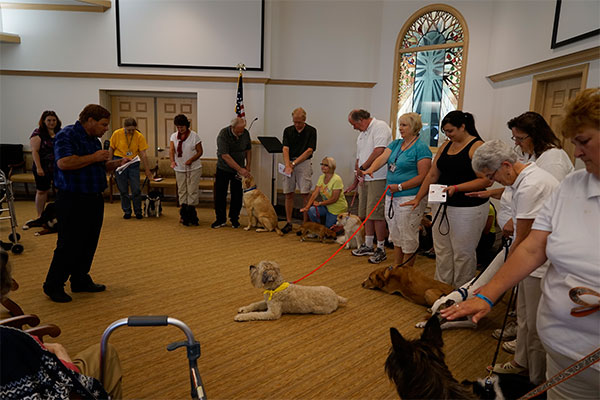 Pets Helping People (PHP) recently held its 16th pet handler team graduation.  PHP brings together owners and their dogs to produce very special pet handler teams.  Dogs that come through the training program range in every shape color and size.  For example our August 2014 graduating class included a Bernese Mountain dog named Poppet and Sophie the Chewenie.
No graduating class would be complete without our Dean of Education, Anakin, the sweetest, most gentle Lab Mix.  Participants go through a 3 part assessment, training and testing program.  Both handlers and dogs participate in a series of classes that demonstrate control, obedience and team work.
Graduation took place at Congregational Home.  The ceremony included an introduction of pet handler teams.  Where owners introduced their animals and provide the audience with a brief overview of the pet and any special talents or stories.  (Like Sophie running up his owner's leg to retrieve a treat on his shoulder.)  The audience members included residents from Congregational Home, PHP board members and existing pet handler teams.  No graduation would be complete without some words of encouragement and thanks from Geno Smith our board chairperson.  And the PHP version of pomp and circumstance; wagging tales, a few barks and most importantly a blessing for pets and people.  The ceremony concluded with visits, tricks and plenty of petting, along with people and pet refreshments.
Graduation is the culmination of all we do;  it is a time to celebrate the hard work and commitment of our volunteers and their decision to share the love they have for their dog with others; it is a time for us to reaffirm our commitment and support to them as they embark on bringing the healing power of cold noses and wagging tails to others creating a human animal experience that brings about great things for everyone involved.
Congratulations to the 2013/2014 Pets Helping People graduating class:
Bucky & Nancy Wigdale
Buddy & Robert Peterson
Dimples and Vickie Koralewski
Lexi & Penny Decamara
Lexis & Susan Harter
Murphy & Robin Moore
Poppet & Erin Flynn
Roxie & Markena Lanska
Sophie & Jim & Lorraine Bahr
Truffle & Pat Julga
Winston & Nanette Gransé