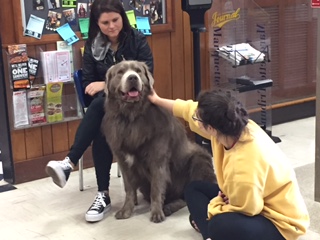 A Facility Partner is designed to bring the joy and benefits of animal assisted visits to businesses and organizations across Southeastern Wisconsin (SEWI). You will have the opportunity to support our certified teams as they independently visit your location and make a real difference in the lives of the people you serve.
In addition to independent visits, our Facility Partners could also participate in our group activities (Waggin'Tails shows and Comfort Paws visits).
Together, we can create a community that values and supports the incredible bond between animals and humans.
WHERE DO OUR HANDLER / PET TEAMS VISIT?
Behavioral Health Centers/Programs
Community Centers

Adult Day-Care Programs
Homeless Shelters
Domestic Violence Shelters

Community Residential Programs

Assisted Living
Independent Living
Memory Care
Skilled Nursing

Group Homes
Hospices
Hospitals

Cancer Centers
Dialysis Units
Emergency Rooms

Incarceration Facilities
Libraries
Rehabilitation Facilities
Retirement Communities
Schools

Elementary
Middle
High School
College/Universities
Special Ed. Settings

Substances Abuse Facilities
Veterans Services
Unfortunately…No Home Visits
FEATURED PARTNER STORY
OUR PARTNERS ARE

KEY

BECAUSE:
We all share the same appreciation of the human-animal bond
They commit valuable time, energy, and resources to help us achieve our goals
They represent a diverse background of services and experiences, which help people in various settings and situations
They are located all over Southeastern Wisconsin
FACILITY PARTNER LOGIN
Please use this form if you are a businesses seeking visits from our certified handler/dog teams.
After our handler/pet teams are accredited, they have access to our PLACEMENT OPPORTUNITIES MAP, – To access this confidential document, please email us at petshelpingpeople@att.net for an access code.
Handler/pet teams make direct contact with organizations to schedule their visits; they are not restricted to this list.
If you represent an organization seeking pet therapy visits and would like more information, please contact us.