HANDLER / PET THERAPY TRAINING AND ACCREDITATION PROGRAM
WHAT MAKES A GOOD THERAPY DOG?
Enjoys engaging with people
At least one year old and in good health
Owned for at least six months
Obedience skills mastered

Walks on a loose leash
"Sit" and "Down" commands mastered
Holds a "stay" command for 2 minutes
"Leave It" command mastered
Calm, friendly and comfortable in new settings particularly noisy and crowded
No history of biting or aggressive behavior
No prong, chain or e-collars allowed
WHAT DOES OUR TRAINING AND ACCREDITATION PROGRAM OFFER?
Hands-on practice, training, and assessment at a multi-care residential community (Congregational Home – Brookfield WI).
A knowledgeable, dedicated, and professional dog training staff
Recognized by American Kennel Club (AKC) as one of two pet therapy training programs in Wisconsin
Small class sizes
Opportunity to apply for the "Canine Good Citizen" designation through AKC upon graduation
Pet therapy placement support post-program completion
Involvement in group therapy activities and special events
PART 1 – ASSESSMENT
Assessment focuses on temperament, obedience, and initiation / engagement
Thirty minute assessment where both dog and handler are guided through a series of tasks

Assessment for One person with one dog = $35
Assessment for Two people with one dog = $50

Tasks are designed to measure specific skills and temperament quality necessary for a good therapy dog
Successful completion of assessment results in an invitation to the four-week training classes
To register or for more information, use the CONTACT US form or email us at petshelpingpeople@att.net
---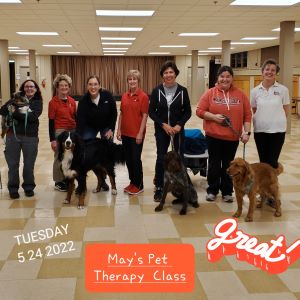 PART 2 – THERAPY CLASS AND TESTING (pricing includes all 4 classes)
Classes combine demonstration, individual and group activities, and role playing with actual client visits and scenarios within a controlled and supervised setting

One person with one dog = $150
Two people with one dog = $250
Two people (one minor-under 18) with one dog = $225

Week 1:

Introduction to Animal Assisted Activities (AAA) and their benefits
Discussion of the many opportunities to become involved in AAA's
Explore the role and responsibilities of being a volunteer handler

Week 2 and 3:

Provide the teams an opportunity to practice interactions in various situations and settings, including bed-side work

Week 4:

Test Night
Evaluation is completed to test competence and skill in activities and interactions learned throughout the accreditation process
---
PART 3 – PAPERWORK, PLACEMENT, RETENTION
Handler / pet teams that successfully pass the final exam are asked to submit final paperwork then work begins to locate their best placement

Evidence of liability insurance with minimum limit of $1,000,000
Health report from veterinarian stating the dog is healthy and up to date on shots/vaccinations

Assistance offered by PHP to help handlers find right placement once paperwork is submitted
Re-accreditation (Every two years) – $50 per handler/pet team
---
Our training program is held at Congregational Home- 13900 W Burleigh in Brookfield
A LITTLE BIT ABOUT WHY WE TRAIN AT CONGREGATIONAL HOME…
Through a remarkable partnership with Congregational Home, Pets Helping People has been able to provide our teams an opportunity to assess and train in an actual multi-care residential community. This allows owners and their dogs an opportunity to experience firsthand the sights, sounds and smells similar to those they will encounter when out visiting. Training in a facility where residents are welcome to stop in and visit during class exposes our new teams to the unpredictability of doing volunteer work. This 'hands-on' training helps new handlers gain experience in real-life situations. Experience builds confidence and with confidence comes calmness, a critical element of pet-therapy work.
Set on a beautifully landscaped 13 acre site in Brookfield, Wisconsin, Congregational Home is a wonderful place to call home. Here you will find a blend of living arrangements to fit almost every need and desire, including Independent apartments, Assisted Living, Skilled Nursing, Memory and Rehabilitative care.
Personalized service is the hallmark of Congregational Home. They believe the way to truly care about people is by building strong relationships, one at a time.

Visit us at http://congregationalhome.org