FEATURED TEAM STORY
Diane's Story

-

When a friend asked her to join the PHP board of directors 20 years ago, Diane said "Yes!" without missing a beat. She could easily see the value of a… Read The Full Story
OUR TEAMS
The human component

Working professionals, retired citizens, students, and junior handlers (must be 16 and accompanied by a parent/guardian)
Anyone sincerely interested in enriching the lives of others through sharing his/her dog

The dog component

Purebred, mix breed, champion, rescue, one-time shelter, young and senior dogs, all are welcome
Dogs with 4 legs, 3 legs, dogs who can see and even dogs who are blind
---
INFORMATION FOR OUR PETS HELPING PEOPLE'S
CERTIFIED PET THERAPY TEAMS
---
WHY DO OUR TEAMS MATTER?
Their desire to have their dogs help others aligns with our mission to help others
Each handler/pet team brings unique skills to share their kindness and affection

Ex: Performing tricks, snuggling, playing ball, listening or just being close

Unconditional love and acceptance is common through all
Handlers facilitate all that happens and play an integral role in the interaction

maintain awareness of safety procedures
advocate for their dogs
monitor and direct the visit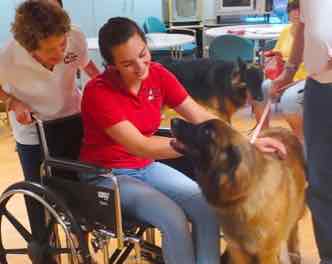 To learn more about the criteria to be considered for a therapy dog, visit our Training Page.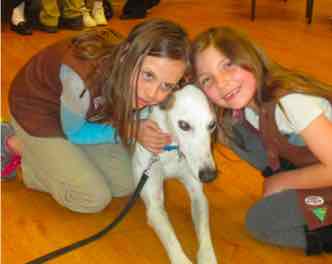 To see where our teams' visit, visit our Partners Page.
WAGGIN' TAILS AND SPECIAL VISITS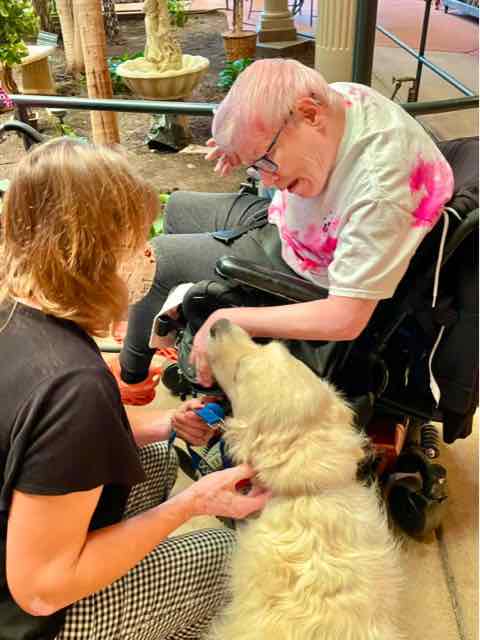 Waggin' Tails (WT) and SPECIAL visits are opportunities for teams to come together to share their dogs as part of a group.
Our WT group puts on shows for individuals of all ages and needs. Each show is tailored to meet the unique needs of our audiences. All shows include a bit of education, some story-telling, demonstrations of therapy dog required behaviors, and some tricks. All shows end with everyone's favorite part – individual dog visits with each person in the audience and some songs.
SPECIAL visits are with teams that visit with larger groups of people without the "show." Some typical SPECIAL visits are stress-relief events at schools, businesses and special events.
If you are interested in a Waggin' Tails (WT) or SPECIAL Visit at your facility, give us a call at 414-393-1111 or petshelpingpeople@att.net.
CLICK HERE FOR THE CALENDAR: https://petshelpingpeople.org/calendar/