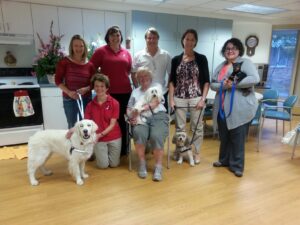 Join us in recognizing the hard work and dedication of …
Amy Hansen and "Libby" her very soft English Cream Golden Retriever. Libby was the perfect angel in class and she and her owner Amy are already doing read-to-rover and volunteering with children in a number of settings.
Angela Janowski brought her small but oh so great of heart Miniature Pincher "Fritz" through our program. Fritz was the clown of the class – whenever he got cold and needed to rest he would reach around and pull a corner of the blanket over him!  Angela and Fritz hope to soon be visiting a number of senior facilities.
Molly and Jim Miller came together with their girl "Hazel" (Cockapoo/corgi mix). Molly and Jim are looking to volunteer where there is the greatest need.  (I think they are going to be very busy!!)
Dodi Metz joins her husband John Rohr by bringing "Maddy" through the program this month. Now both John and Dodi can begin visiting together!
We want to extend a very special thank you to Erin Hennen for the excellent work she did in leading the class activities in May.  Thank you handlers and your wonderful dogs for your spirit of volunteerism.