Pets Helping People (PHP) knows you care a lot. Your support helps us train more compassionate dog owners and their big-hearted pups to deliver calming, unconditional canine love to those in need of a brightened spirit. Please help us carry on our mission.
The pandemic challenged us again in 2021, reducing our training program participation numbers and preventing visits to many of the facilities we would otherwise regularly call on. But we're still here – thanks to your support and to volunteers like Diane Miller, who keep us moving forward.
Diane's story…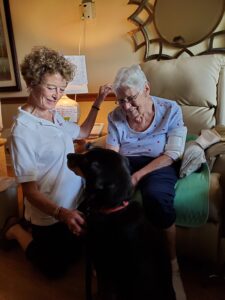 When a friend asked her to join the PHP board of directors 20 years ago, Diane said "Yes!" without missing a beat. She could easily see the value of a friendly dog's visit with someone who is lonely or stressed.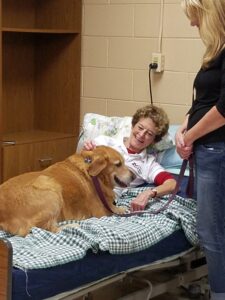 It didn't take long to realize she wanted to do more than attend board meetings, so in 2003, Diane volunteered to help train PHP dog/handler teams. "I started out in the background, helping with assessments and testing. It was fun and rewarding, and that has been my Tuesday nights ever since."
Eventually, Diane became a full-fledged PHP trainer. She loves "meeting dogs and watching their connection with their handlers and watching classes come together. Everyone is rooting for everyone else. Sometimes handlers are nervous, but I remind them class should be fun – just as we want their therapy visits to be fun for them and their dogs."
Diane sees first-hand the time and effort it often takes to help dogs master obedience commands. "When a handler and dog struggle with an exercise like 'leave it,' where dogs must leave tasty treats untouched on command, and then are able to master it and pass training with flying colors, that makes me feel good."
She has also been on the other side of the equation. She and her faithful friend Irene, a sweet lab mix, are graduates of PHP's training program. "Irene and I went through class. I understand what it's like to be on the other side, and that has made me a better trainer."
No job too big or too small
As if Diane's dedication as a trainer weren't enough, her involvement over the years has been instrumental in bringing PHP through leadership and funding challenges. She's rolled up her sleeves to help manage PHP's contact list and answer emails. She took on scheduling assessments and training. Her ideas, energy and selflessness have helped revitalize our cause.
Diane is the glue that holds us all together. She's an amazing lady — kind, genuine, always willing to lend a hand. She is devoted to PHP and believes deeply in our mission.
Heidi LaCosse, PHP head trainer
One volunteer, hundreds of teams, serving thousands
With PHP back on track, Diane stepped down from the board in 2020. Over the years, she has helped train hundreds of pet/handler teams, benefitting thousands of individuals.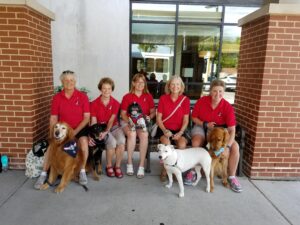 In addition to her PHP trainer duties, she and Irene regularly visit elderly residents of Eastcastle Place, work with kids at Irving Elementary School in PHP's "Read to Rover" program and visit the staff at the Donor Network. She's also the first to raise her hand to help with PHP special events.
Please donate today to help us continue to train new dog and human angels so they can brighten and comfort others.
This story is being used for our 2021 annual End of Year fundraising appeal.
Please click the yellow DONATE button today to help us continue
our mission of pet therapy training and visits to people in need.