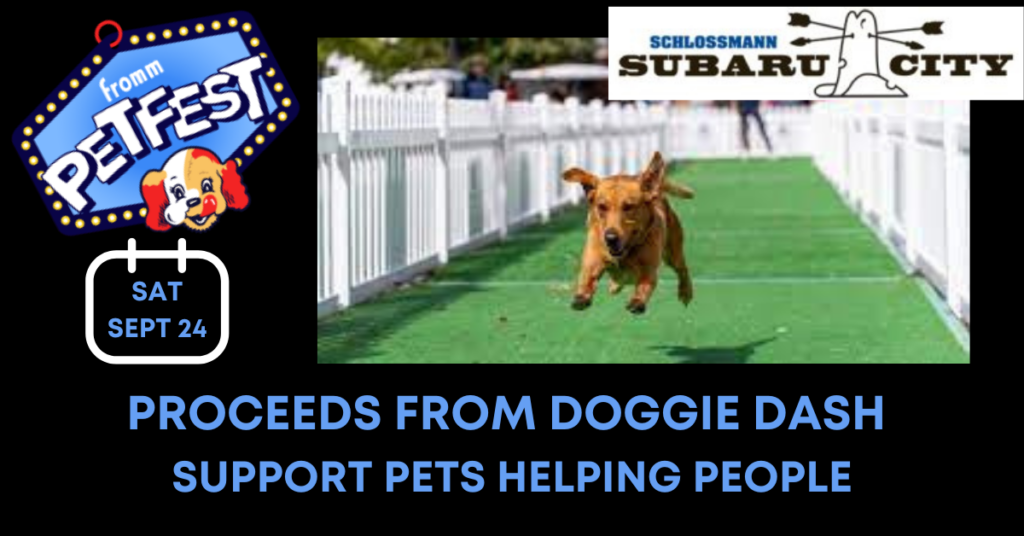 Do you have a pup that loves to run? Enter them in the Doggie Dash time trials, presented by Schlossmann Subaru City of Milwaukee. Each dog will have one chance to sprint down a 100 foot enclosed runway. The dogs with the best time in three size categories (Small: 25 lbs and under, Medium: 25 to 49 lbs, Large: 50 pounds and above) will be awarded prizes for 1st, 2nd and 3rd place.
Doggie Dash Cost: 2 tickets / per dog / per run
All pet activities are ticketed attractions with proceeds going to support the new Petfest Pals give-back initiative. Tickets can be purchased at one of three ticket booth locations throughout the Petfest grounds and are: $2/ticket or $10 for 6 tickets.
Petfest Pals Recipient: All proceeds from Doggie Dash ticket sales will be donated to Pets Helping People.
Petfest Pals is a new give-back initiative designed to provide help to animal-related non-profits here in Wisconsin. Thank you Schlossmann Subaru for nominating Pets Helping People and the good work they do in the community.

Be sure to stop by our Pets Helping People tent near the Doggie Dash to learn more about our mission.
For Doggie Dash Volunteers….for a map of area, click DOWNLOAD
If you are bringing your dog to Petfest, please download, fill out and bring this waiver with you.