Washington County Volunteer Center – Champions of Change 2016
– Nominated for the Dynamic Duo Award
Nominated by Sheila Stuettgen, Aurora Medical Center – Hartford Hospital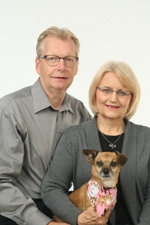 Jim and Lorraine along with their dog Sophie, often come to the hospital to visit with patients and caregivers. Sophie has a great personality and has a very calming effect on the patients. As a team, they brighten the day of those struggling with significant issues both as patients and caregivers. Aurora feels so fortunate to see their smiling faces and that they share Sophie with our community.