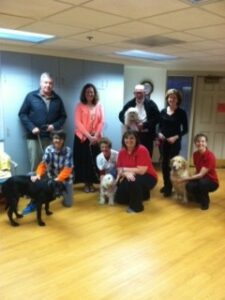 Say hello to …
John Rohr and "Maddy" (Coton de Tulear). Maddy is their 3rd dog to come through our program and it's John's first time as the handler.
Julie Grassel, joins her husband Mike as a handler with her own dog "Bear" (Teddy Bear). Julie will be joining Mike and his dog Phoebe in our Waggin Tails Performance troupe activities, read to rover in their daughter's classroom and many other places.
Sharon Pircon and her sweet soft girl "Keely" (Golden Retriever). Sharon is currently exploring a number of places to visit.
Mike and his son Calvin, a junior handler, each came through our program with their very sweet Black Lab "Phinn".
We are excited with having so many families participating in our program.  We thank our handlers for their commitment to sharing the love they have for their dogs with others and look forward to hearing their stories of healing and peace.