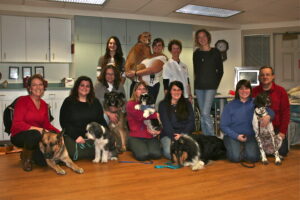 This class is full of energy and are already busy bringing warm smiles and wagging tails to others.  Please welcome
Kathy Blu and "Milo" (Shih Tzu);
Sandy Robac and "Lyon" (Rough Collie), mother of our long time junior handler Jessica (with dogs Duncan and now Jazz);
Ann Bruder and her second dog, "Chyenne" (German Shepard);
Wanda Adelman and "Bear" (German Shepard); and
Jack and Jana Champion, a husband and wife team, with "Falk" (German Shorthaired Pointer).
We're very happy to have them helping us.