WAUKESHA COUNTY FAIR 2017
Sarah Stock of Mukwonago Crowned This Fair's Fairest
By Ashley Haynes, Freeman Staff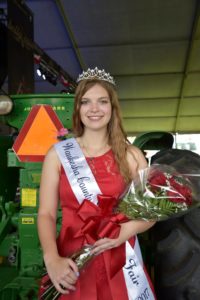 WAUKESHA — On Wednesday, opening night of this year's Waukesha County Fair, three hopeful women arrived at the Leinie Lodge stage area to compete for the title of 2017 Fairest of the Fair. In the end, 20-year-old Mukwonago native Sarah Stock was crowned and received the title. She competed against Nicole Peschel of Waukesha and Serena Nicoll from Brookfield.
Each woman has unique goals and causes that they are passionate about. For Stock, it's animals. This became apparent when she was asked about her involvement with the nonprofit Pets Helping People Inc.
"This is an issue that is very near and dear to my heart," said Stock. "I've had a lot of elderly family members in hospitals and I've seen how lonely they can be."
At just 13 years old, she trained her dog Sam to be a therapy dog. By attending classes, she and her dog were able to learn how to comfort people in different scenarios. Stock will soon graduate from Carroll University and plans to attend veterinary school afterwards.
Each of the three Fairest of the Fair contestants had to answer two questions that were chosen at random and perform a 60-second radio ad they had prepared themselves.
Serena Nicoll, who won Miss Congeniality, was asked about her passion for engineering as a career option for women. The 18year-old is involved with a chapter of the Society of Women Engineers at the University of Minnesota.
"I was welcomed by an amazing group of girls that showed me women have the power and presence to do whatever they dream of," said Nicoll.
The third and final contestant for the title was 39-yearold Nicole Peschel. She is an active participant in the Boy Scouts of America and believes that the organization has an immense impact on young boys. She is currently a Troop 4 Boy Scout leader in Waukesha.
"It can show boys that they can be self-motivated, self-sufficient and be a bigger part of the community," said Peschel.
In the end, it was Sarah Stock who went home with the grand prize. Although the decision may have seemed quick to the crowd, the three women had already gone through a semi-final process that involved a 15-minute one-onone interview and a 15minute group interview. The 2016 Fairest of the Fair winner, Talia Spiegelberg, let the audience know exactly what Stock has in store as she embarks on a year-long journey of representing her community.
"While I've had plenty of attractive experiences as Fairest, what no one tells you about are the unattractive experiences," said Spiegelberg. She recounted how she had almost fallen into a pig pen and was almost hit in the head by a tree branch as she greeted communtity members at a Fourth of July parade. Despite minor setbacks, she says being crowned Fairest was a fun experience.
The Fairest of the Fair winner serves as the official host of the fair and as an ambassador for the event throughout the entire year. The Fairest announces special events, conducts media interviews, awards ribbons and trophies, and attends meet-and-greets with the public. Fairgoers will be able to meet 2017 winner Sarah Stock at 1 p.m. today at the children's tent.
For more information, visit www.waukeshacountyfair.com.
Email: ahaynes@conleynet.com