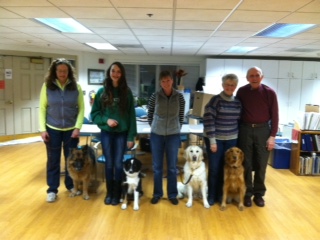 We're very excited to begin 2015 with a great group of sensitive and caring teams to help us meet some of the many requests we have for cold noses and wagging tails!  Please say hi to:
Diane and Jack Loppnow, another husband and wife team and their sweet "Holi" (Golden Retriever),
Ann Bruder and her third dog Contessa, better known as "Tess" (German Shepard),
our Training Assistant, Victoria La Crosse, a junior handler with her 2nd dog in our program "Dottie" (Australian Shepard) and
Michele Deubel and her English Cream Golden Retriever, "Hopkin".
We also want to recognize sweet "Ellie Mae" who fell ill during class and crossed the Rainbow Bridge – she has been granted "Angel Accreditation" and will long remain in our hearts and in those of her owners Geno and Dawn Smith.