1 event,
This class is Full...September 13th, October 11th, November 8th and 15th are available. Pre-registration is required for the Assessment class. Space is limited to six Handler/Pet teams. Email petshelpingpeople@att.net or use the Contact Us page "Inquiring about Assessment and Training" form. For more information regarding pet therapy training... click the View Event Website […]
1 event,
Waggin'Tails group visit Autumn Leaves - 9201 W Drexel Av Franklin Parking on either the North or South side of the building. Enter the Main Entrance located on the West side of the building. They are expecting 40 residents attending. Looking for at least 6 teams, please arrive by 1:45 PM.
1 event,
Grand Opening of their new location 133 W Pittsburgh Downtown Milwaukee 4pm-6pm two shifts - 1-2 teams per shift We have a wonderful brand new opportunity on Thursday August 18. Flowers for Dreams is opening a new location and they have invited us to have a table and a few of our pet therapy pups. […]
1 event,
Join us in one of the most idyllic settings in Milwaukee. Sat August 20 is a designated "dog" day at the Gardens. PHP will have a tent on the grounds. Public is invited to bring their well-socialized, leashed dogs. There are multiple shifts from x to x pm Looking for at least 1 or 2 […]
1 event,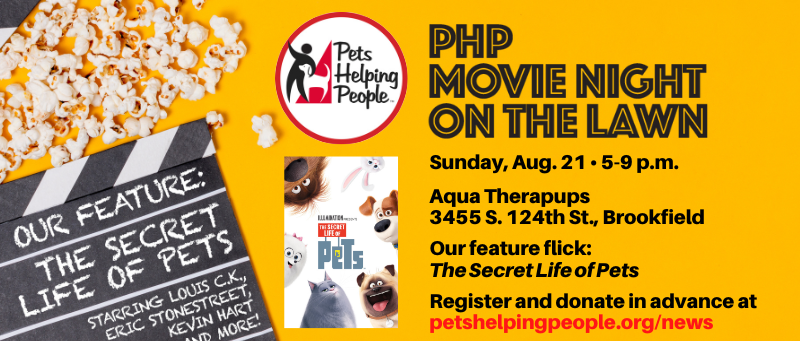 Come and join the fun and laughs with our presentation of SECRET LIFE OF PETS, an animated film about what pets do when humans aren't looking. Starring Louis C.K., Eric Stonestreet, Kevin Hart, Steve Coogan, Ellie Kemper, Bobby Moynihan, Lake Bell, Dana Carvery. Rated PG. Before the movie, a menu catered to our dog-loving supporters […]
1 event,
THIS VISIT HAS CANCELLED AS OF August 23 Waggin'Tails group visit BRIA of Trinity 7300 W Dean Road Please arrive at 9:45am Minimum 6 teams Use the 7300 W Dean Rd entrance/ east of 76th street....meet in the lobby Mixed group...mostly independent and assisted living residents.